What is the Holiday Cheer Passport?
The Holiday Cheer Passport is your pocket-sized key to unlock exclusive deals at pubs and restaurants throughout downtown Kenosha. For example, a drink that is normally $10 is available to passport holders for only $5.* The passport makes it fun and easy to explore downtown, support small business, and discover new places you may otherwise never have visited!
How do I use it?
The Holiday Cheer Passport is valid from Wednesday, December 8th until Saturday, December 11th, from 4-8pm during the week and 2-6pm on Saturday.* A list of participating businesses is available below and inside the passport. Just show your passport to the bartender and order one of the special items listed on this page!
How do I buy a passport?
Passports can be purchased online on Eventbrite! Passports ordered on or before December 1st will be mailed via USPS. To ensure you have your passport in time, orders placed after December 1st will need to be picked up at the Chamber of Commerce during normal business hours, Monday-Friday from 8am until 4:30pm. Passports are $20 each or two for $30!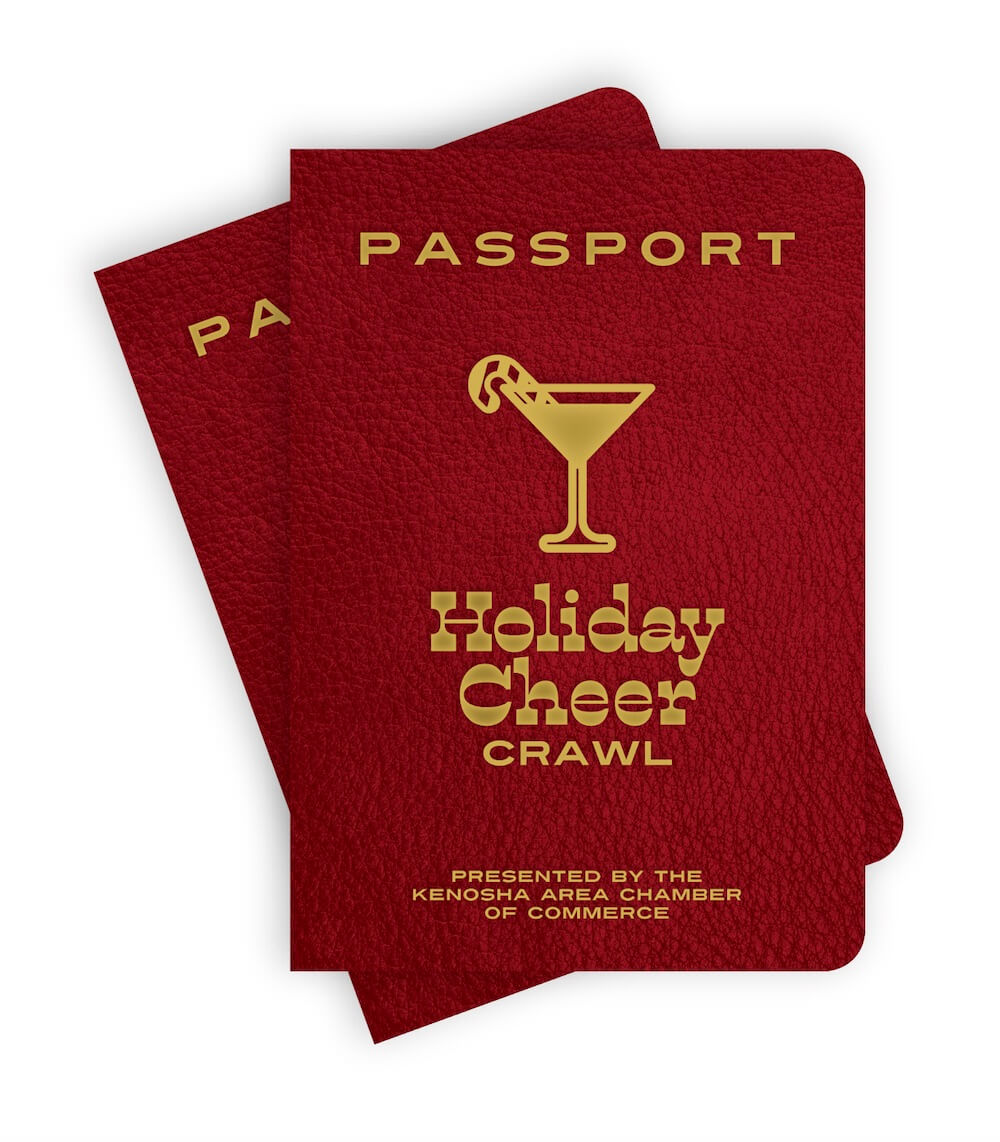 Ashling On the Lough
$5 Hot Buttered Rum (reg. $7.50)
Boat House Pub & Eatery
$7 two-topping pizza (reg. $14)
Captain Mike's
$5 Hot Toddy (reg. $8.50)
Champions Sports Bar
$2 shots of Dr. McGillicuddy's (all flavors) (reg. $4)
$2 Bud Light Lemonades (reg. $4)
$2 Michelob Ultra Seltzers (reg. $4)
Gordon's Sports Bar & Grill
TBA
Kaiser's Pizza & Pub
$4 Pointsettas (Mimosa w/ peach schnapps and cranberry juice) (reg. $8)
$4 fried pickles (reg. $8)
PUBLIC Craft Brewing Co
1/2 off any tap beer or
1/2 off an order of Cheese Curds
Rustic Road Brewing Company
$7 Holiday Old Fashioned (reg. $9.50)
Slip 56
TBA
Swede's
$5 Old Fashioned (reg. $7.50)
Tavern on 6th
$5 Tavern Yule Mule (reg. $9)
The Apis Hotel & Restaurant
$5 TBD Cocktail (reg. $10)
The Down Town'R Saloon
$5 Cranberry Lime Margarita (reg. $10)
$2 basket of Chips & Salsa (reg. $4)
The Stella Hotel & Ballroom
$5 TBD Cocktail (reg. $10)
$5 TBD Appetizers (reg. $10)
Wyndham Garden Kenosha
$4 Moscow Mule
$17 Domestic Beer Buckets (5 bottles)
*All specials, food/beverage prices, and times subject to change at the discretion of the individual participating location. Limits may apply per day per person. See individual participating location for details.